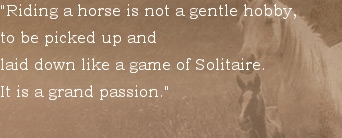 ​     At Thistle and That Farm we are going through some growing pains...downsizing and reformatting our programs and direction for the future. We continue to offer Lessons, Training, Day Camps, Clinics, AKC Labrador Puppies, and The Collective Farm Store.

    We are no longer offering weekend Mommy & Me, Story Time, Pony Parties, or Lesson Celebrations. We do however format our lessons to fit the needs of our customer despite the age and expertise. 

    The Collective Farm Store will be creating a virtual FB Page in order to highlight items for sale via scheduled pick ups or if available to ship via Venmo or Paypal.

    The AKC Labrador puppy program is a very small, boutique program including our family members...Bertram, Hatteras, and now Jetty and Dory the newest members of our lab girls. It is our intention to breed high quality puppies for health and temperament without compromising the health of our girls which means their health and happiness comes first. We pride ourselves in raising up the puppies in house with mama at their side in an environment that fosters manners, training, and excellent companionship. Visit our sister link on the homepage of this site.

Call Laurie at 603-267-6443 with questions or for more info on all of our offerings.